Soccer
LaLiga chief Tebas apologises for 'misinterpreted' Vinicius tweet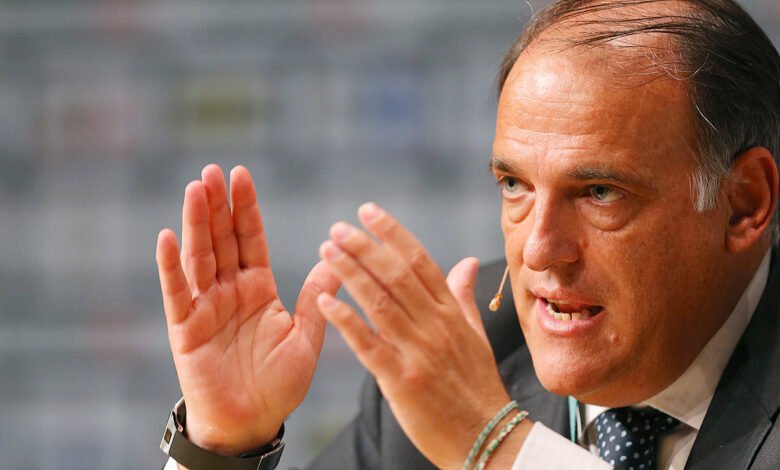 LaLiga president Javier Tebas on Wednesday apologised for a tweet about Vinícius Júnior he mentioned was misinterpreted, and mentioned that the Spanish federation should be doing extra to fight racism as a result of the league doesn't at present have that authority.
"I always tell this to my entire work team. When people or an important part of them understand a message in a certain way, then they are right so I have to be sorry because I think my message was not understood, especially in Brazil," Tebas informed ESPN Brasil. "So, I have to be sorry because I think my message and the intent with which I wrote it, an important part of it was not understood, especially in Brazil.
"Because my intent was to not assault Vinicius, however fairly to make clear that Vinicius only one month in the past made a video supporting the actions of LaLiga [against racism]."
Repeated racist abuse against Vinicius has unleashed a heated debate in Spain about tolerance for racism.
The LaLiga match at Mestalla between Real Madrid and Valencia was stopped during the second half after the Brazil international identified a fan in the crowd behind the Valencia goal as having racially abused him.
In social media posts after Sunday's game, Vinicius said that "racism is regular in LaLiga" and claimed that "in Brazil, Spain is named a rustic of racists."
Tebas responded to Vinicius' criticism in a Twitter exchange.
"Neither Spain nor LaLiga are racist," Tebas said. "It could be very unfair to say that. At LaLiga we denounce and deal with racism with all of the toughness inside our powers."
Tebas on Wednesday blasted the Spanish federation (RFEF) for not doing more and said that if LaLiga had the authority to take action inside the stadiums, the problem of racist and anti-gay chanting "can be resolved inside months."
Spanish federation president Luis Rubiales, on Monday admitted that Spain has a racism problem and called for sanctions and punishment for the fans involved. The RFEF on Wednesday said that Valencia's south stand will be partially closed for five matches and also fined the club while rescinding Vinicius' red card.
The winger was sent off in stoppage time by referee Ricardo de Burgos Bengoetxea for striking an opponent following a scuffle with Valencia players in which Vinicius appeared to be grabbed around the neck.
Tebas said his hands are tied regarding legal punishment for fans who make offensive or racist chants.
"This season, racist insults have been reported 9 occasions. Eight of them have been for insults in opposition to Vini. We at all times establish these maniacs and file a grievance with the related our bodies. It does not matter how few they're, we're at all times relentless," Tebas said.
"The Federation and LaLiga are two completely different entities, we do not have the authority to expel individuals from the stadiums; they do. We would take motion if we had extra authority to sanction and punish offenders. We would shut the stadiums, ban the followers, however we solely have accountability from exterior the stadium.
"We have filed grievances about racism that ended in just fines. I hope that we can be given the authority to take action," Tebas mentioned. "Because I think if we had the authority to take measures, we would end racism in the stadiums within months."
Source link